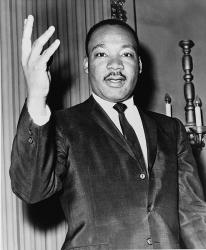 Martin Luther King, Jr. (January 15, 1929 – April 4, 1968) was an AA clergyman, activist and prominent leader in the American civil rights movement.
King became a pastor in Montgomery in 1954. In March 1955, Claudette Colvin, and then Rosa Parks, refused to give up her bus seat to a white man. The Montgomery Bus Boycott, urged and planned by Nixon and led by King, soon followed and lasted for 385 days. The situation became so tense that King's house was bombed ; King himself was arrested during this campaign who finished with the end of racial segregation on all Montgomery public buses.
In 1963, FBI started telephone tapping King because they feared Communists tried to infiltrate the Civil Right Movement.
King organized and led marches for blacks' right to vote, desegregation, labour rights and other basic civil rights who were enacted into the US law with the passage of the Civil Right Act of 1964 and the 1965 Voting Rights Act.
King participated to the Birmingham Campaign to promote civil rights for AA and end the segregation and discriminatory economic policies in the city. The campaign lasted for two months in 1963, King and black citizens of Birmingham employed non-violent tactics to defy laws they considered unfair: boycott of businesses to encourage jobs for people of all races, as well as segregated facilities in the stores. The campaigners organized a series of sit-ins and marches to provoke arrest.
King summarized the philosophy of this campaign when he said: "The purpose of direct action is to create a situation so crisis-packed that it will inevitably open the door to negotiation".
By the end of the campaign, King's reputation increased immensely and public places became open to blacks.
King was among the leaders of the so-called "Big Six" civil rights organizations who participated to the March on Washington for Jobs and Freedom in 1963, and it's during this march he gave his famous speech "I Have a Dream" in front of the Lincoln Memorial, one of the finest speeches in the history of American oratory.
A short extract of the speech 'I have a dream"
For the full version: http://www.youtube.com/watch?v=PbUtL_0vAJk
The march make specific demands: an end to racial segregation in public school; meaningful civil rights legislation, including a law prohibiting racial discrimination in employment; protection of civil rights workers from police brutality and a 2$ minimum wage for all workers.
The march was a resounding success, more than a quarter million people attended the event, sprawling from the steps of the Lincoln Memorial: it was the largest gathering of protesters in Washington's history.
In 1966, King, who received death threats throughout his involvement in the civil rights movement, was hit by a brick during one march in Chicago but continued to lead marches in the face of personal danger.
Until 1968, King participated at different campaigns for the civil rights, notably in Chicago (1966) and for the Poor People's Campaign (1968).
Martin Luther King was assassinated the April, 4 1968 in a motel. James Earl Ray was condemned, but other people was suspected to have participated at a conspiracy for the murder of King.
King's autopsy revealed that though only thirty-nine years old, he had the heart of a sixty-year-old, perhaps a result of the stress of thirteen years in the civil rights movement. Between 1957 and 1968, King have travelled more than 9,6 millions of kilometres, have spoken in public 2500 time, have been arrested 20 time by police and have been attacked at least 4 time.