CULTURAL CHANGES
African Americans:
Black culture, in the USA have developed itself independently of the African culture. We can explain that by the fact that the African Americans didn't know Africa because they were born in the USA and not in Africa. They have developed their own music and many musics we know come from African American music (Soul, funk, blues, gospel, jazz, R.N.B), literature (with authors as James Baldwin, Richard Wright, Zora Neale Hurston, Toni Morrison and Maya Angelou), art, languages and foods.
They have influenced the American dance with for example Bill Jones who is a modern choreographer and dancer. He has included African Americans themes in the piece: "Last Supper at Uncle Tom's Cabin/The Promised Land"
There were many blacks inventors in USA for example Norbert Rillieux created the technique to converting sugar cane juice into white sugar crystals or Lewis Howard Latimer who ameliorated the Edison's light with his cotton-thread filament who have "a life" more important than his ancestor.
They haven't inherited of the African past of theirs ancestors although the African American music his inspire about African music but they have created a very rich and diversified culture.
Native Americans:
We know that a tribe was very different to another (language, clothing…) but there were similarities. The contact with the white's world changed many things in the Native American culture. For example before the western conquest there wasn't written traces of the Native Americans history but a little time after appeared native writers.
But Native Americans try to keep theirs customs for example they continue to practice traditionnal dance.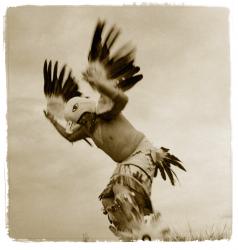 They want to transmit this culture to Americans because in 2004 it existed 30 Native American radio stations in all the U.S.A.
Comparison:
With the contact of the whites, African Americans and Native Americans saw theirs cultures change and this "meeting" created mix cultures. They adopted white's customs and they kept there traditional customs, on the point of music, language, dance. The whites brought to these people literature, modernity and technologies but we can say that later African and Native American culture have influenced the "European / American" culture, literature …
So we can say that the cultural fate of Native Americans and African Americans are similar.