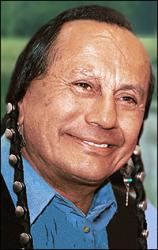 Russel Means (born 10 November 1939) is one of contemporary America's best-known and prolific activists for the rights of Americans Indians. Means has also pursued careers in politics, acting and music.
In 1968, Means joined the American Indian Movement and quickly became one of its most prominent leaders with Dennis Banks. In 1969, Means was part of a group of Native Americans that occupied Alcatraz Island for a period of 19 months. He was appointed the group's first national director in 1970. Later that year, Means was one of the leaders of AIM's takeover of Mount Rushmore.
In 1972, he participated in AIM's takeover of the Bureau of Indian Affairs office in Washington, D.C.. and in 1973 he led AIM's occupation of Wounded Knee, which became the group's most well-known action.
Means went on to establish the offices of the International Indian Treaty Council at the United Nations in 1977, and helped to create important alternative institutions on the Pine Ridge Indian Reservation, such as KILI radio station, and the Porcupine Health Clinic.
In 1988, the AIM's faction headed by the Bellecourt brothers released a statement stating that Means had publicly resigned from AIM on no less than six occasions, first in 1974. As of 2004, Means' website states that he was a board member of the Colorado AIM chapter, which is associated with the competing faction. Means in the past was associated with the controversial activist Ward Churchill.
Russell Means by Andy Warhol